Worried about why all of sudden your Access database starts throwing "Unrecognized Database Format" error? Or looking for some easy fixes to troubleshoot this annoying Access Error 3343 – Unrecognized Database Format?
You will get answer of all your queries regarding Access Unrecognized Database Format error in this post.
As, the post contain complete detail about Access Error 3343 and best fixes to resolve Unrecognized Database Format error.
What Is Access Unrecognized Database Format Error?
During the accessibility of the Access MDB/ACCDB file in version 2007/2010/ 2013/2016/2019. Usually it is seen that user get stuck and receive such Access Database error 3343 due to certain reasons. 
This Access Runtime error 3343 – unrecognized database format also refers to frxque32.mdb file. As, it is seen when the frxque32.mdb file got corrupted it will throw such type of unrecognized database format error.
Before moving on to the manual fixes to resolve "Access Error code 3343". Let's explore about the reasons which causes this MS Access error 3343 unrecognized database.
Error detail:
Error code: Access Runtime error 3343
Name : Unrecognized database format
Screenshot of the error:
What Are The Causes Of Unrecognized Database Format Error?
Have a look over some of the root causes of Access Unrecognized Database Format Error.
Reason #1
The very first reason is opening the latest version Access database file into some older version database.
Reason #2
Chances are also that your Access database file is somehow got corrupted.
Reason 3#
May be you are not using the MS Office service pack which is not latest. Or it's not been updated for so long.
Reasons #4
Software or hardware issues
Virus Attack
oversizing of the Access database file
Presence of some Bad sectors on the hard drive where your MS Access file resides.
Malfunctioning of the Microsoft Office suit
If splitting of the Access database done in an improper way
How To Fix Access 3343 – Unrecognized Database Format Error
In this section we will discuss about the 5 different ways to fix Unrecognized Database Format (3343) Error.
1: Import Corrupt Database Into New MS Access Database
2: Try to Open MS Access Database File in Older Versions
3: Troubleshoot frxque32.mdb File Issue
4: Using Compact And Repair Inbuilt Utility Tool
5: Try The Backup Option
6: Automatic Solution To Fix Access Unrecognized Database Format Error
Let's know about each of these fixes one by one in detail…!
Fix- 1: Import Corrupt Database Into New MS Access Database
Try importation of corrupt Access database into a new Access 2010 database file by following these steps:
First of all open your MS Access application and create new database file. Hit the create option to make a new file in right side section of the panel.
In the new database file windows, hit to the External Tab option from the above ribbon.
Tap to the Access option as by pressing to this option you can easily import of your Access database.
This will open up a new window named with Get External Data – Access Database.
So, tap to the browse button and make selection of your corrupt/damaged Access database file to import.
Browse and choose access database file in File Open dialog box. Tap to the Open option to confirm your selection.
After then, hit to the OK for further continuation of the process.
Make selection for the objects in Import Objects dialog box and again press the OK option.
Complete of your selected objects get imported successfully. Press save import steps box and hit to the close
Fix–2: Try To Open MS Access Database File In Older Versions
The error unrecognized database format usually happens when the user try to open the Access 2019/2016/2013 database file in older Access database version like 2007/2010 etc, In such case, user get error 3343 unrecognized database format.
This happens because the newer Access 2019/2016/2013 database version  files make use of the latest indexed process which is incompatible with Access older version like 2007/2010/2002 etc.
Resolution:
To get rid of this unrecognized database format issue in Access 2013, first assure the following settings are executed well:
File>Options>General>Creating Database>New Database sort order
Also assure that General>Legacy settings is followed, as the Access 2010 will not open with "General" format.
Users also need to convert 2013 database to 2010 database file. By making use of the Access 2013 and after successful alteration of the database, open the database in previous version like Access 2010.
Please Note: It is recommended not to keep two different version of MS Access on the same database file, as there are ample chances of Access file corruption.
Fix–3: Troubleshoot frxque32.mdb File Issue
First of all you need to uninstall the frxque32.mdb file and install a new one.
After then rename the frxque32.mdb file present in the sysdata folder with name "frxque32.old".
Now from the local hard drive search for the frxque32.tpl file.
It's time to copy frxque32.tpl file within sysdata folder.
Tap to the "yes" option for swapping the existing frxque32.tpl file with the new one.
After then rename frxque32.tpl file by assigning name frxque32.mdb.
At the end restart your PC to save up all the changes.
Fix–4: Using Compact And Repair Inbuilt Utility Tool
If the error 3343 unrecognized database format is occurring due to oversizing of the database or due to some minor issues of the database. Then you must run the Compact and repair inbuilt utility tool of the Access database.
This manual method is first and best step to troubleshoot minor Access database corruption issues and for reducing Access file size safely and securely.
Well you can read more about the efficiency of this free Access database inbuilt tool on this article: Things That Compact And Repair Access Database Tool  Can Do…!
Here is the complete step to use Compact and repair utility tool for fixing up runtime error 3343:
1: firstly you need to open up your MS Access program.
2: After then make a hit on the Database Tools tab.
3: now press the Compact and Repair Database option.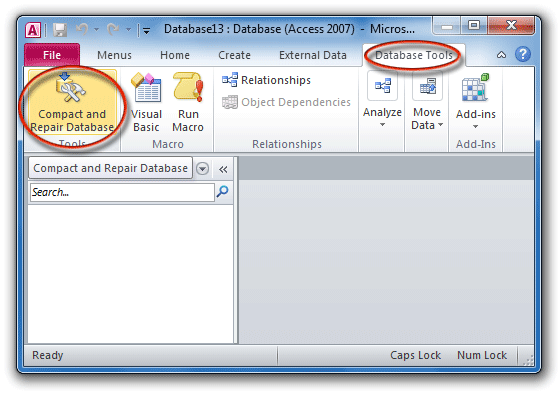 4: in the opened Database to Compact From dialog box, make a search for your problem encountering MS Access database file. So, make selection of such files and then hit the compact option.
5:  it's time to create a new database in Compact Database Into dialog box. So, assign name to your file and then press the Save option.
After this the inbuilt utility tool, compacts the database and start repairing queries, indexes, tables and other data that is available in the database. This is best way to repair errors in the access database but in some cases this fails also. So in this case you can make use of the automatic solution to repair errors in the Access database.
Note:
Before attempting to try this inbuilt tool, it's recommended to take a proper backup of your database file. Also, make sure that no any other user is currently been using the same database file on which you are performing compact and repair method.
Fix 5: Try The Backup Option
Another very common reason behind "unrecognized database format error" is corruption of the Access database. Though corruption is the common issue but this is not something that can't be repaired.
HELPFUL ARTICLE: 5 Ways To Backup And Restore Access Database In 2007/2010/2013/2016?
If your database gets corrupted then you can recover the stored data in the Access database easily with the valid backup. But if you are not having the updated and proper backup then in that case move to our next solution i.e making use of the Access repair & recovery tool.
Fix 6:

Automatic Solution To Fix Access Unrecognized Database Format Error…!
Access Repair & Recovery is one such software that is particularly designed to repair corrupt or damaged MS Access database files. This software comes with powerful algorithm that scans even severely corrupted access database files. It also has highly interactive GUI that helps user to easily operate and repair Access database without making changes in the original structure of the file. 
You can easily restores damage or corrupt tables, queries, indexes and other data. This tool can easily fix all minor and major database errors and problems of MS Access 2013, 2010, 2007, 2003, 2002, 2000 on almost all version of Windows operating system such as Windows 8/7/Vista/XP/2003. Free trial version is available that you can install to check the features and reliability of the software.
Features of MS Access Database Repair & Recovery Tool
Below find out the key features of the Access Repair & Recovery:
Provide Complete Access Database Repair –
It completely repair corrupted and fixes error issue in your Access database. It repairs both damaged MDB and ACCDB files of MS Access database and recover them with ease.
Offer option to select or search corrupt Access database file –
This tool provides option to select or find corrupt Access Database files that are stored on your computer hard drive. There are three options to add files they are "Select Files", "Select Folder" or "Find File".
Preview Option after Scanning –
After scanning the software allows you to see a preview of the recovered database files in the main interface of the software. For tables, the software shows the preview of the "table data" and "column information" in two columns in the right pane of the tool.
Restore Deleted Records –
It also has the option to restore deleted record in the database. But in order to recover deleted records, you need to select "'Scan for deleted records" at the base while you choose database for repair.
Recover all Access Database Objects –
This tool repair and recover all Access database objects that include Tables, Forms, Queries, Linked Table, Modules, Macros, Table Data, Indexes and so on.
Fixes all Common Corruption Errors –
MS Access database throws many minor and major error messages. But with the help of this tool, one can easily fix all such common error messages of MS Access database.
Allow user to save repaired files at desired location –
As and when your Access files gets repaired this tool offer two options to save repaired files. It allows you to either select the default location or you can select the desired location to save the file.
Support Different languages –
This tool has the capability to restore Access database in different languages such as in English, French and German.
Steps to Recover Corrupted or Damaged MS Access Database
5 Simple Tips to Prevent MS Access Database Corruption
Is your MS Access Database corrupted? Are you looking to fix Access Database corruption? If "yes" then follow the below 5 effective tips to avoid MS Access Database corruption:
1# Split your database –
The most important thing you can do to avoid Access corruption is to split your database into "front-end" and "back-end". The front-end stores the forms, reports, and data access page while back-end has tables containing your data. You can place a copy of your front-end database of each system on local hard drive and link back the table that are stored on the file server. By doing so less data will be dragged from the network and there will be less chances of the corruption. Beside this your database will run fast and you can also make changes to the front-end while still using live data.
2# Never leave the database open –
It is suggested because most backup program automatically starts to take backup even if they are open and hence most of the users leave the database open. But this is not the correct way, it will only increase the chances of corruption and therefore it is requested that you must close you application even during your lunch time.
3# Exit the database properly –
It is always suggested that you must close database or any application properly. If you forcefully close the database by using Ctrl-Alt-Delete/End Task then it can create problem and may corrupt your Access database. It is always suggested that you must finish your task and then exit the application by using the File>Exit Menu option.
4# Must keep updated drivers of your device –
Outdated driver of your device can create corruption, hence you must try to keep them updated as much possible. As per Microsoft, almost 80% of Windows users face this problem. So, when so many users reports problem & bugs with drivers, the company update them quickly. So, it is also your job to check whether update has been released or not and must keep the device driver updated always.
5# Compact and repair regularly –
This is the inbuilt utility that comes with Access application. You must perform this feature in regular interval of time to enhance performance and to avoid corruption of Access database. You can set this function to perform automatically to compact and repair your entire database daily or weekly.
Conclusion
Through the above post you must have got enough idea to get rid of MS Access error 3343. Try all the fixes mentioned above to troubleshoot "unrecognized database format error".
Do share your experiences with us whether the above fixes worked for you or not…!.
Also Read:
Top 4 Best Fixes To Resolve Access 3021-No Current Record Error…!
Fixes To Resolve Microsoft Access NOT Showing Tabs Mystery…!
12 Quick Ways To Speed Up Slow Running Access Database
How To Fix Access "Linked Table Manager Not Working" Error?
6 Top Fixes For MS Access 3343 "Unrecognized Database Format " Error !